Hello Stellarians! Most of us had looked forward to the year 2020 to be a year where we propel towards greater heights as a nation. At the end of year 2019, Stellar Education Group had also looked to this year as the beginning of a new and exciting journey for all of us as we set up Stellar International School.
Stellar International School (SIS) was birthed from the idea and request of parents who sent their child to Stellar Preschool as they had hoped to continue their child's education journey with us beyond that of pre-school. The seed was planted in year 2018 where it finally came to fruition after 2 years of rigorous planning. It all came to a halt on 18th March when the first Movement Control Order (MCO) was announced in response to the Covid-19 pandemic. Schools were closed and it was as if the world itself had paused.
Year 2020 challenged us to think out of the box, it turned out to be a year of crisis that was in fact a blessing in disguise. It allowed us to realise how learning does not have to be confined within the school's walls. Instead, all we need to do is to look around and reflect at the different moments in our life, there is always an opportunity to learn something. Rather, the most important thing would be to instil the spirit of never giving up within the minds of our children.
"Stars shine the brightest when the night is darkest", kudos to the team from Stellar Education Group as they immediately came together to discuss the next step instead of backing down. Reminded that our vision was to raise a generation of stars by equipping them with lifelong learning skills that they would have a sustainable future, our members themselves first had to evolve and we are proud to be one of the first who went online with proper classes that catered not only to Stellarians but even reached out to students from Singapore, Korea, Australia, Thailand and China.
Covid-19 had been a bane of many, but for us it became the good example to showcase to our students how we should be proactive and adapt to this ever-changing world by showing students how we continue our journey despite the challenges brought by this pandemic. It was a memorable experience nonetheless for all Stellarians. What was even more encouraging us was the outpouring of love from many of our parents who trusted and were so kind to the team by sending them words of appreciation. We also received messages like parents who were reluctant to move to other cities as they found that their child has now developed an interest in learning and grown a passion for school life in our school. For us to see the impact of the work that we have been doing is the ultimate driving force for us to continue what we have been doing. Nothing is more fulfilling than seeing students love learning, discover their passion, engage in lesson and really flourish as passionate learners.
Reality still hurts as we have received news from some of our parents who lost their job due to the pandemic and some who are now struggling to make ends meet or even separated from their loved ones. Stories of how parents have been working so hard to juggle their livelihoods while still prioritizing their child's education touch us deeply and make us even more determined than ever to continue outputting our very best for the community.
Moving forward, we will continue to work closely with all our parents by updating you on the progress of our school's future. We are still on track towards having our very own purpose-built campus with all the facilities that are beneficial for the holistic development of your children, more details will be released when official documentations are in order. Truth be told, physical classrooms mean nothing to us without the laughter and chatter of our beloved students. We cannot wait until the day where students can be back to school without the worry of the pandemic anymore. When that happens, we will have lots of fun activities to let the children and their teachers catch up on all the bonding sessions that are so missed.
Dear parents, rest assured that Stellar Education Group will always be a platform to connect students with passionate educators. We strive to ensure that all our educators teach out of their love and respect for the child's future with their best interests in mind. As we always say, it is our goal to "raise a generation of stars for a sustainable future", where we aim to act as the catalyst to boost a child's curiosity and help develop them into successful lifelong learners.
Lastly, I hope that everyone will be able to find good health and security in the coming year. We will get through this together. It is my honour to be able to serve the community together with the team of dedicated staff from Stellar Education Group. Thank you very much for your wonderful support this year. I wish you and all children the very best for the future.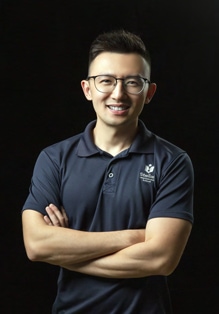 Daniel Loh
Founder of Stellar Education Group
Fill out this form and our Stellar Office will contact you to answer all of your questions.
An amazing place for your children to learn, develop and grow into future global leaders.