STELLAR
INTERNATIONAL SCHOOL
The Smart Choice for Your Child's Education in Johor
You want the best for your child. You want them to have a high-quality education that won't break the bank. You want them to learn from a curriculum that is respected by top universities worldwide. You want them to benefit from the methods and techniques of the Singapore education system, which is renowned for its excellence and innovation.
But where can you find such an education in Johor, Malaysia?
The answer is Stellar International School, a reputable international school that offers everything you're looking for and more.
Stellar International School is conveniently located at Puteri Harbour, a premier waterfront development that offers a vibrant lifestyle and a safe community. Stellar is a member of the Stellar Education Group, which has over 30 years of experience in providing quality education in Malaysia and abroad.
At Stellar International School, your child will thrive in a dynamic and diverse learning environment that fosters academic excellence, behavioural growth, and character development. Your child will enjoy a fun and engaging learning experience that encourages them to respect differences, collaborate with others, and discover their passions. Your child will also learn from a professional team of young, energetic, and vibrant teachers who care about their individual needs and goals.
Stellar International School is also an innovative and flexible school that adapts to changing times and needs. Stellar International School was one of the first schools to convert into online learning during the COVID-19 pandemic. Stellar International School uses state-of-the-art technology and resources to deliver high-quality education that meets the standards of the Malaysian government and Iskandar's directives. Iskandar's directives are guidelines and policies set by the Iskandar Investment Berhad (IIB), which oversees the economic development of Johor. Stellar International School also leverages on the latest digital tools and platforms to enhance its teaching and learning processes, such as online learning management systems. Stellar International School also takes its students on trips and outdoor activities to make its lessons relevant to real life.
Stellar International School is more than just a school – it's a home away from home for its students. Stellar International School has a clear and ambitious vision for its school, which is to provide an affordable and high-quality education that prepares its students for the future. Stellar International School also fosters a culture of innovation, collaboration, and continuous improvement among its staff and students, encouraging them to pursue their passions, explore new opportunities, and achieve their full potential.
With small class sizes, modern facilities, and a supportive community, Stellar International School is an ideal choice for your child's education in Johor. But don't take our word for it – see for yourself why Stellar International School is the smart choice for your child's education.
Schedule a visit or apply online today – spots are filling up fast!
We look forward to welcoming you to our Stellar family!
Our School guides students from early childhood to secondary level seamlessly through The Cambridge International Curriculum and Singapore Curriculum. Students will be equipped with a strong foundation in core subjects such as English, Mathematics, and Science, while also being mentored in a wide range of other subjects.
We integrate the thematic approach of the International Primary Curriculum (IPC) with our primary school curriculum to create a setting for our students which broadens their knowledge through a global perspective thereby gaining a deeper understanding of the world they live in.
In order to ensure that our students fulfill a key prerequisite of enrolling in the top universities in the world, we prepare them to participate in International General Certificate of Secondary Education (IGCSE) examination offered by Cambridge Assessment International Education (CAIE) board from The University Of Cambridge, United Kingdom (UK).
Holistic Student Learning
THE STELLAR LEARNING CULTURE
Stellar International School ensures every student experience a culture of possibilities and excellence, bringing out their inner passion and self exploration qualities naturally.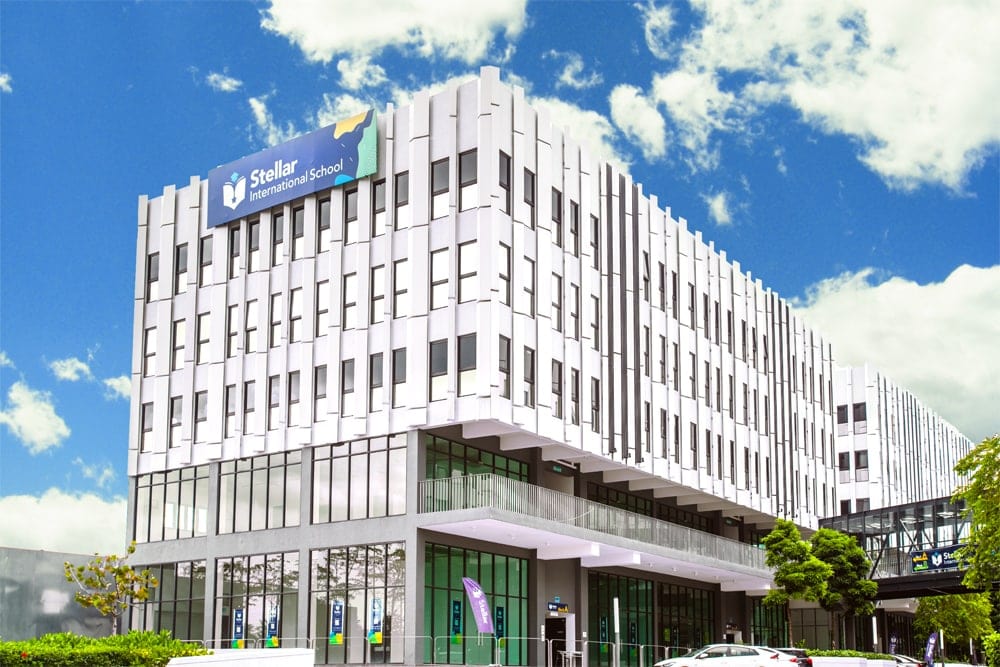 PRESCHOOL CAMPUS IN THE CITY
SHAPING OUR CHILDREN'S FUTURE.
STELLAR PRESCHOOL is an English medium preschool in Johor Bahru, Malaysia. We offer a refreshing holistic and innovative approach to education for children ages 3 to 6. Our school is a student-focused educational institution that provides the curriculum and methodology that reflects the best in global educational research and practice supportive learning community that challenges our students to achieve personal excellence and to develop as confident, caring, life-long learners positively engaged in the world. Get in touch with us & we will arrange a tour specially for you and your family.
Stellar International
Newsletter
Subscribe to get our latest news.
Fill out this form and our Stellar Office will contact you to answer all of your questions.
An amazing place for your children to learn, develop and grow into future global leaders.