LIVE Interview: Get Close with Dato' Peter Ng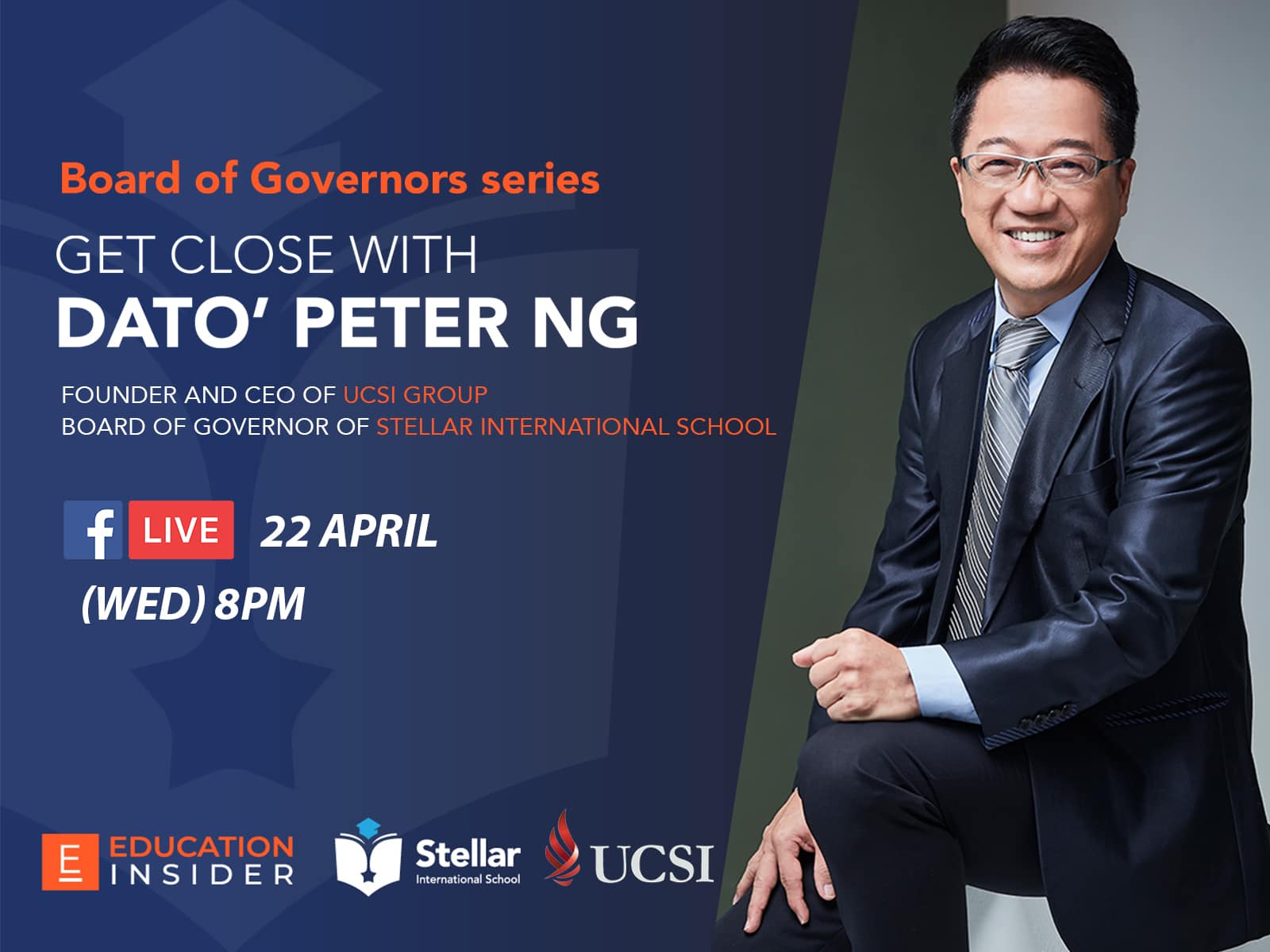 Event details
Facebook LIVE

April 22, 2020

Wednesday, 8:00 PM to 9:00 PM
LIVE Interview: Get Close with Dato' Peter Ng
Wednesday, 8:00 PM to 9:00 PM
April 22, 2020
LIVE Interview: Get Close with Dato' Peter Ng
Wednesday, 8:00 PM to 9:00 PM
April 22, 2020
PRINT
We are honoured to invite Dato' Peter T. S. Ng to chat with us LIVE on Facebook! Dato' Peter is the Chairman of Board of Governors for both Stellar Preschool and Stellar International School since 2016. We attribute our achievement today to the guidance and advice by Dato' Peter and his team. You are welcome to join us and ask any question to Dato' Peter Ng during the LIVE session.
【FB LIVE】
Topic: Get Close with Dato' Peter Ng
Date: 22 April 2020 (Wednesday)
Time: 8:00PM – 9:00PM
Dato' Peter Ng is the founder and CEO of UCSI Group – a conglomerate that operates in education, consultancy, healthcare, hotels, property and technology.
The Group began with education as its niche when Ng founded a humble computer training institute on a shoestring budget of RM2,000 in 1986. Today, that institute has grown to become UCSI University – Malaysia's best private university in the 2019 QS World University Rankings. Ranked in the top 2% of all universities in the world, UCSI is the only Malaysian private university in the world's top 500. It also stands out as one of the world's top 70 universities under 50 years old.
Click here to submit your questions –> bit.ly/Questionnaire-DatoPeter
➤ FREE Online Trial Class by Stellar International School
➤ More information on UCSI University
————————
◆ Facebook: fb.com/stellar.international
◆ Instagram: instagram.com/stellar.education/
◆ Tel: +6011-5622 3116 / +6011-5637 3116
◆ Email: enquiry@stellar.edu.my
◆ Website: www.stellar.edu.my
————————
📞 +6011 5622 3116
RSVP by clicking "Register"。请点击右边"register"注册报名 →